Enjoy a family domain in a natural and sunny environment!
A group of resorts with performing infrastructures for an optimal skiing experience
The skiing area of Galibier-Thabor is located in Savoie and gathers the resorts of Valmeinier and Valloire, to offer close to 150 kilometers of slopes. This domain got its name from the two most significant peaks on the territory: the Grand Galibier and Mount Thabor. In total, the domain offers 85 slopes with a majority of red slopes but also many blue and green ones for a peaceful practice. Galibier-Thabor is a family domain which suits children and adults, whether beginners or experienced!
Located at the limit between the Southern Alps and the Northern Alps, the Galibier-Thabor domain benefits from an excellent location offering an abundant snow cover of quality during the major part of the year, making the skiing experience exceptional! Near the Vanoise and Érins parks, it offers natural areas and must-see landscapes. The sun is often present, making it possible to enjoy both a pleasant climate and quality snow.
The Galibier-Thabor domain is ideal for all winter sports and adapts to any level. For snowboard enthusiasts, the domain also counts a snowpark ranked among the best in France! The resorts of Valloire and Valmeinier offer quality infrastructures with performing ski lifts that can carry a large volume of skiers. You can thus freely enjoy your trip and without wasting time!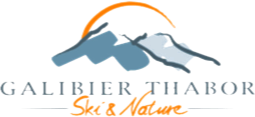 Galibier-Thabor