Modern and optimized resorts ideal for all winter sports!
A domain perfectly located for a sunbathed ski experience
Fôret Blanche is a skiing area of the Hautes-Alpes which regroups two resorts, Vars and Risoul. In total, 115 slopes for 185 kilometers, 42 ski lifts, 3 snowparks, 4 sled slopes, 2 boardercross, and a slalom stadium. In other words, you will have plenty of possibilities to vary the pleasures during your stay!
The domain of Foret Banche benefit from an excellent location which lets it enjoy quasi constant sunshine. Thanks to this cold and dry climate, the slopes offer snow of high quality and very pleasant skiing experience. In Risoul, you can ski on slopes in the heart of the forest. In Vars, you will find more snowfields without trees for an open-air descent.
Forêt Blanche is a modern domain with recent infrastructures that reduce the waiting time at each ski lift. Whether you're a fan of alpine ski or snowboard, you can enjoy winter sports in peace without spending hours in queues. Apart from these two sports, the domain of Fôret Blanche is perfect for ski tours, nordic ski or snowshoes, activities where you can enjoy the exceptional quality of the snow and discover breathtaking landscapes!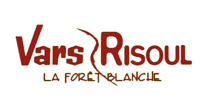 Forêt blanche